BPNL Syllabus 2023 
BPNL Syllabus 2023: A private corporation named Bhartiya Pashupalan Nigam Limited (BPNL) was established in 2009. Incorporated by the Government of India in January 2011, BPNL was originally known as the Indian Animal Husbandry Development and Research Institute Limited.
The positions of Training Control Officer, Training Incharge, Training Coordinator, and Training Assistant are currently being filled by BPNL through a recruitment campaign. As a result, we will go into detail about BPNL Syllabus 2023 & Exam Pattern in this article. Plus, we'll explain how you can prepare for the test.
BPNL Syllabus 2023 – Overview
Candidates for the BPNL Recruitment 2023 must examine the BPNL Syllabus 2023. The applicants will benefit from the curriculum and test pattern in order to pass the Written Aptitude Test and advance to the next phase of selection. The table below offers a summary of the syllabus and exam structure:
| | |
| --- | --- |
| Name of the Organization | (BPNL) Bhartiya Pashupalan Nigam Limited |
| Total Posts | 7875 Posts |
| Category | Syllabus 2023 |
| Posts Name | Training Controlling Officer, Training In Charge, Training Coordinator, and Training Assistant |
| Mode of Exam | Online |
| Selection Process | Written Aptitude Test, Document Verification |
| Pattern of Questions | Objective |
| Official Website | bharatiyapashupalan.com |
Also Read: MP NHM Staff Nurse Vacancy 2023 मध्य प्रदेश में 2877 पदों पर भर्ती जारी
BPNL Syllabus 2023 – Exam Pattern 
To study hard and prepare effectively for the Written Aptitude Test, candidates must become familiar with the test format. There are five topics: Hindi, Indian Agriculture & Animal Husbandry, National Current Affairs, Skill Development, and Computer Basics. The following table Shows the BPNL Exam Pattern 2023:
Subject
Maximum
Marks
No. of
Questions
Timing
Hindi
08
08
30 minutes
English
08
08
Science
08
08
Mathematics
08
08
Reasoning Ability
08
08
Basics principle of Computer
10
10
The total number of questions in the BPNL exam will be 50.
The pattern of questions will be objective type (MCQ-based).
Apart from this, each question in BPNL exam will be of 1 mark.
There is no negative marking scheme so candidates have to attempt all the questions.
The minimum qualifying score in BPNL exam is 36%, and there is no relaxation or reservation on passing marks.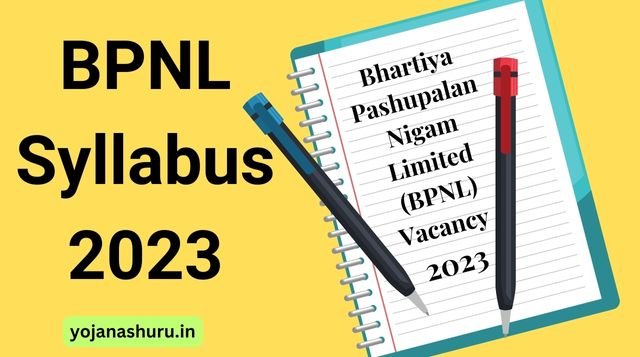 BPNL Syllabus 2023 
The syllabus for BPNL (Bhartiya Pashupalan Nigam Limited) exams or job positions can vary depending on the specific role or position you are referring to. Here are some common subjects that may be included in the BPNL syllabus:
BPNL Syllabus 2023 – Current Affairs 
National Affairs
Economy and Business
Science and Technology
Environment and Technology
Sports and Games
Current General Knowledge.
BPNL Syllabus 2023 – Skill Development
Skill Education (Important Facts and Skill India)
Communication Skill, Team Work
Problem-solving and Negotiation Skill
Networking and Time Management
Organizational behavior Skills.
BPNL Syllabus 2023 – Reasoning Ability
Verbal and non-verbal reasoning
Logical reasoning
Syllogisms
Blood relations
Coding-decoding
Analogies
Series, etc.
BPNL Syllabus 2023 – Agriculture
Important Facts – Types and Origin of Agriculture
Type of agriculture according to time (season)
Land Measurement – Important Facts
Agricultural Tools
Important agricultural terms and a research facility.
BPNL Syllabus 2023 – Animal Husbandry in India
Animal Husbandry – Introduction, Meaning and Schemes
Animal Husbandry Classification
Diseases and causes in animals
Livestock Production and Management
Breeds of animals
Prevention
Vaccination
Fodder production
Animal nutrition etc.
BPNL Syllabus 2023 – Principles of Computer
MS Office- shortcuts for creating, editing, opening and saving a file, formatting in a file.
Hardware – Physical components of the computer system & their functions.
Software – Application & System software, classification.
Function Keys
Network Technology
World Wide Web – Definition & Concepts
Internet Technology – HTTP, HTTPS, Email etc.
BPNL Exam Preparation Tips –
Preparing for the BPNL (Bhartiya Pashupalan Nigam Limited) exam requires a systematic and focused approach. You can use the following advice to help you study for your exam:
1. Be familiar with the test format: Learn the format of the exam, including the amount of questions, the scoring system, and the time limit. You may then arrange your preparation approach in accordance with this.
2. Syllabus Analysis: Carefully analyze the syllabus and create a study plan. Priorities the issues after dividing them into groups according to their importance. Make sure to cover all the important subjects and allocate sufficient time for each.
3. Compile Study Materials: Compile the necessary study materials, such as textbooks, reference books, test questions from prior years, and internet sources. These resources will provide you with comprehensive coverage of the syllabus and help you practice different types of questions.
4. Create a Study Schedule: Develop a study schedule that suits your routine and allows for regular and consistent study sessions. Set up time specifically for each subject and topic. Divide the course material into manageable chunks and establish goals.
5. Practice with Mock Tests: Solve mock tests and previous years' question papers to get a feel for the exam pattern and improve your time management skills. This will also help you identify your weak areas that require more focus and practice.
6. Improve Time Management: Managing your time well throughout the test is essential. Practise answering questions in the time provided. Use techniques like time-bound practice sessions and setting timers to improve your speed and accuracy.
7. Take Notes: While studying, make concise notes of important concepts, formulas, and key points. These notes will serve as quick revision material during the last few days before the exam.
8. Revision: Set aside dedicated time for regular revision. To help you grasp and remember what you have learned, go through the material again. Focus on solving practice questions and sample papers to strengthen your problem-solving abilities.
9. Stay Updated: Keep yourself updated with current affairs, especially related to the field of animal husbandry and agriculture. To keep updated, read newspapers, follow news websites, and consult pertinent periodicals.
10. Maintain Good Health and Positive Attitude: Look for your physical and emotional health. Get enough rest, eat a healthy diet, and work out frequently. Stay upbeat and driven as you go about your preparation.
Remember, consistent effort and disciplined study habits are key to success in any exam. Good luck with your BPNL exam preparation!
FAQs – BPNL Syllabus 2023 
1. What number of subjects does the BPNL Syllabus 2023 cover?
Ans. The BPNL Syllabus covers the following 5 topics: Hindi, Indian Agriculture & Animal Husbandry, National Current Affairs, Skill Development, and Basic Computer Principles.
2. Does the BPNL Exam Pattern include any negative scoring?
Ans. No, the BPNL Exam Pattern does not include negative marking.
3. What is the duration of the Written Aptitude Test?
Ans. 30 minutes (half an hour).
Read More About BPNL Bhartiya Pashupalan Nigam Limited Recruitment 2023