IBPS Clerk Vacancy 2023 Apply at @ibps.in
IBPS Clerk Vacancy 2023: In order to fill clerical positions in all Public Sector Banks in India, with the exception of SBI, the Institute of Banking Personnel Selection (IBPS) holds the IBPS Clerk test. The information about open positions might aid applicants in developing a better plan of attack for the next test. Every year, IBPS (Institute of Banking Personnel Selection) holds the IBPS Clerk test to fill clerical positions in 11 public sector banks throughout the nation. CRP serves as the foundation for filling openings for this position at all Public Sector Banks.
The IBPS Clerk CRP XIII exam is the 13th year Clerk test that will be administered for the FY 2023–2024. There are two tiers of the IBPS Clerk exam: the preliminary test and the main exam. Students who pass both of these tests are therefore chosen for the position. The IBPS Clerk Vacancy 2023 Notification states that IBPS Clerk 2023 Online Registration will start on July 1, 2023, and the application date is July 21, 2023.
IBPS Clerk Vacancy 2023 Notification – Overview
Along with the IBPS Clerk Vacancy 2023, IBPS has notified the crucial dates for Clerical Cadre positions to be filled in 2023–2024. On July 1, 2023, the Institute of Banking and Personnel Selection posted a thorough job announcement on its official website for 4045 open positions. See the summary table below for additional information regarding IBPS Clerk Vacancy 2023:
| | |
| --- | --- |
| Name of the Organization | Institute of Banking Personnel Selection (IBPS) |
| Total Posts | 4045 Posts |
| Job Type | Central Govt. |
| Job Name | Clerk |
| Application Start Date | 01 July, 2023 |
| Last Date | 21 July, 2023 |
| Job Location | India |
| Official Website | ibps.in |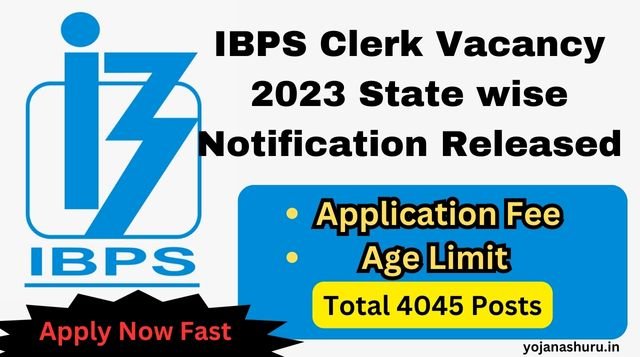 Also Read: RRC WR Apprentice Recruitment 2023 Apply For 3634 Posts, Check Eligibility Criteria
IBPS Clerk Vacancy 2023 – Educational Qualification
The minimum requirement for a candidate is a degree in any field from an accredited university, or any comparable degree recognised as such by the Central Government.
Computer Literacy: Candidates must possess a certificate, diploma, or degree in computer operation, a language, or equivalent operating and functioning expertise in computer systems. Should have taken a course in computer/information technology in high school, college, or institute.
Given priority for the positions for which the applicant desires to apply, candidates should have proficiency in the official language of the State/Union Territory (candidates should be able to read, write, and speak the official language of the State/Union Territory).
Application Fee –
The following table lists the IBPS Clerk Vacancy online application fees per category. Once paid, fee/intimation payments cannot be held in reserve for another exam or selection and cannot be returned on any account. The application cost itself has to be paid online. For more details, view the entire IBPS Clerk Application Guide:
| | | |
| --- | --- | --- |
| S.No. | Category | Application Fee |
| 1 | SC/ST/PWD | Rs.175/- |
| 2 | General and Others | Rs. 850/- |
Selection Process –
Candidates for the post of clerical cadre in the majority of the leading public sector banks must succeed in both of these exams in order to be chosen. The most important thing to keep in mind is that no interview procedure is necessary to choose applicants following the main exam. The results of the primary exam carries a 100% weighting. The IBPS Clerk CRP XIII recruiting procedure consists of two steps:
1. Prelims Examination
2. Mains Examination
IBPS Clerk Vacancy 2023 – Age Limit
The applicant's age must be between 20 and 28.
A applicant must have been born between 01.07.2003 and 02.07.1995 in order to be eligible.
IBPS Clerk Vacancy 2023 – Salary Structure 
The base salary for IBPS Clerks ranges from Rs 19,900 to Rs 47920 per month. The basic compensation for an IBPS clerk is Rs. 19,900, while the remaining pay is made up of transportation, health, housing rent, and inflationary allowances. For those who sign up first, the IBPS Clerk compensation is Rs. 29453 in hand.
IBPS Clerk Vacancy 2023 State wise
The state- and category-specific opportunities for the 2023 exam have also been updated here along with the release of the IBPS Clerk Notification 2023. On the IBPS Clerk CRP XIII Notification website, you may view each state's 4045 IBPS Clerk Vacancies for 2023. There are 674 posts available, the majority of which are in Uttar Pradesh.
IBPS Clerk Vacancy 2023 State Wise
State
Vacancies
Andaman and Nicobar
0
Andhra Pradesh
77
Arunachal Pradesh
6
Assam
77
Bihar
210
Chandigarh
6
Chhattisgarh
84
Dadra & Nagar Haveli / Daman & Diu
8
Delhi
234
Goa
36
Gujarat
239
Haryana
174
Himachal Pradesh
81
Jammu & Kashmir
14
Jharkhand
52
Karnataka
88
Kerala
52
Ladakh
0
Lakshadweep
0
Madhya Pradesh
393
Maharashtra
527
Manipur
10
Meghalaya
1
Mizoram
1
Nagaland
3
Odisha
57
Puducherry
0
Punjab
321
Rajasthan
169
Sikkim
0
Tamil Nadu
142
Telangana
27
Tripura
15
Uttar Pradesh
674
Uttarakhand
26
West Bengal
241
Total
4045
How to Apply for IBPS Clerk Online Application Form?
The processes that a candidate must take when completing the application form for the IBPS Clerk 2023 test are listed below:
Step 1: Click on the aforementioned link to be taken to the IBPS official website to register for the IBPS Clerk Exam.
Step 2: Click "Click here for New Registration" to proceed.
Step 3: To register for this exam, you must now submit some essential information.
Step 4: You will receive a temporary registration number and a system-generated password following a successful registration.
Step 5: Fill out the IBPS Clerk Apply Online 2023 online application completely. After you have checked all the information you have supplied in each area, click "Save and Next."
Step 6: There will be no turning back once you press the FINAL SUBMIT button.
Step 7: You must next upload your photo, signature, and handwritten IBPS Clerk declaration.
Step 8: You must specify the state for which you are applying. No changes of any type will be permitted in this selection once you have successfully completed your application.
Step 9: Make the online payment last.
Step 10: Take a printout of the IBPS Clerk online application and e-receipt for your records. Online banking, debit cards, and credit cards are available as payment methods.
Read More About IBPS Clerk Recruitment 2023 आईबीपीएस क्लर्क भर्ती